Introduction
We saw in the Introduction to the various presentations of the stamp the definition of the notions of aspect and of variety. Thus let us remind that a variety is an accidental modification of one of the industrial components constituting the postage stamp. In this article, I will show a certain number of what I regard as a variety and I will try, each time, to explain the technical cause of the variety. As all the presentations of the stamp 0,50F Marianne de Béquet were produced by intaglio process, stamps marketed in sheets, booklets or coils will be considered in this article, since the technical causes of these varieties are generally similar.
Five kinds of varieties which could affect stamps 0,50F Marianne de Béquet can be regarded, bound to changes of the plate cylinder, to defects of printing, to the paper and to the gum, to the perforation of stamps and finally to the printing of phosphorescent bands.
Plate cylinder varieties
Plate cylinder varieties correspond to damages to the plate cylinder such as dots, vertical coloured or white scratches, craters, ring-moons…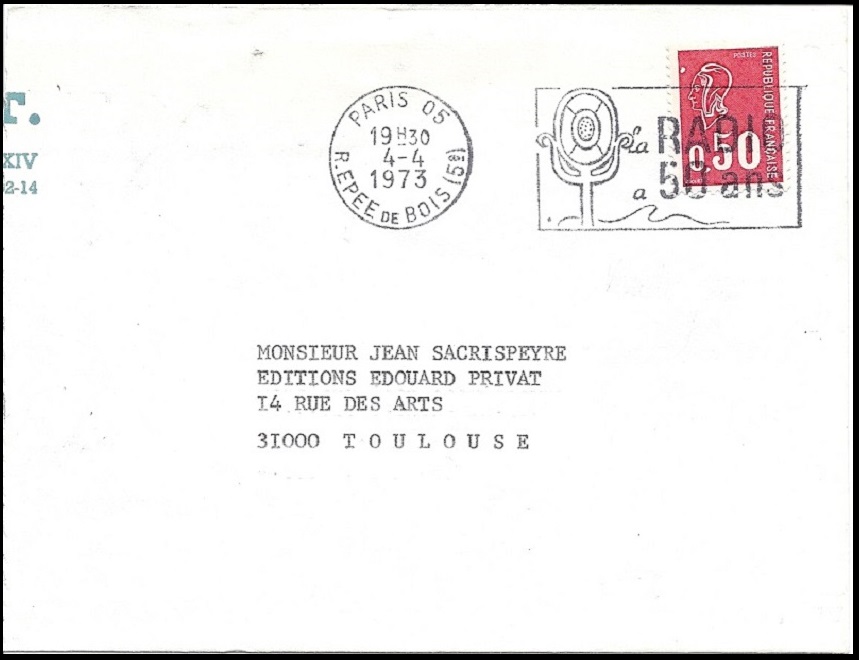 A variety such as a dot (also called mole, rock, fly,…) may be caused by a tiny clump of gum inside the turns of the paper reel which came to be stuck on the plate cylinder and which, after inking, leaves a mark after wiping. There is so a bump, which keeps non wiped ink around it, with a trail in the printing direction. Such a variety can also be obtained when a chromium particle comes off the plate cylinder and leaves, while being projected out of the printing unit, a small depression in the plate cylinder which will behave like a cut.
block of 4 stamps with one stamp with a white "caterpillar"
Vertical scratches are caused by a chromium particle coming off the plate cylinder and having been fixed on the wiping roller which makes, in turn, scratches on the form cylinder.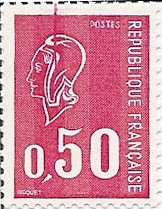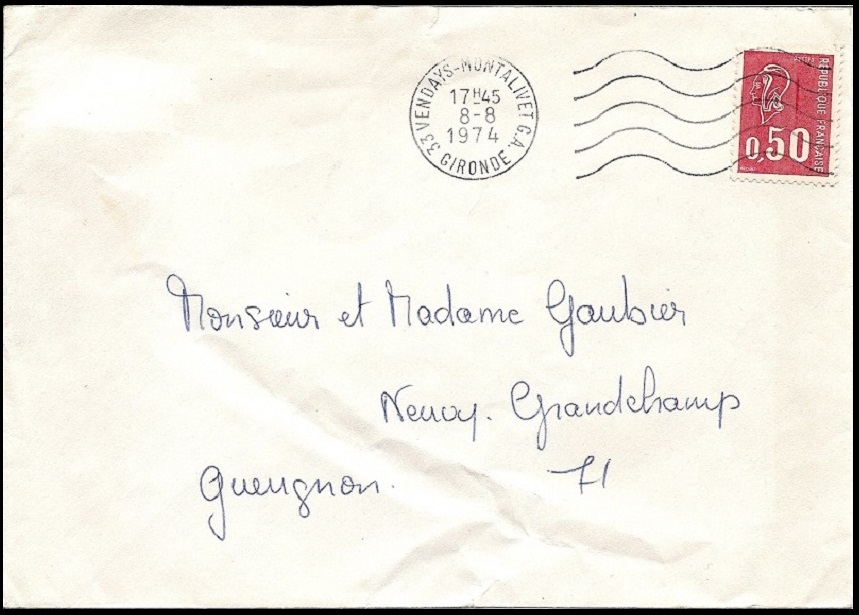 Craters are traces left by small asperities which were formed on the chromium film protecting the form cylinder.
Ring-moons are small non printed circles coming from chads sticking on paper before inking and around which a thicker ink deposit is formed.
Printing varieties
Printing varieties concerns the incidents related to the printing of postage stamps. They can be due to inking or to wiping. Such varieties can also affect the overprints affixed to stamps.
Inking varieties
This kind of variety corresponds in the event the inkwell is emptied and ceased supplying the rollers during a few moments. Partially inked stamps or albedos, where only relief is present, can be produced.

corner dated block of 4 stamps with 2 stamps partially inked
pair of stamps belonging to a booklet with a stamp partially inked and a red lin in the margin
upper pane of a C7 booklet with 10 albinos
letter with a very partially inked stamp
Varieties bound to the distributor cylinder
The distributor cylinder spreads ink over the touch roller. If it contains hollows, these ones will not receive ink and the touch roller will thus leave a white zone, as can be seen on the following example:
inking defect due to a bad distribution of the ink
This variety can be compared with the
which looks a bit like it without having a similar cause.
Wiping varieties
Wiping rollers must eliminate superfluous ink deposited on the surface of the form cylinder to go about leaving only ink contained in grooves. If the pressure exerted by these wiping rollers is not correct, various varieties can be obtained:
if the pressure is badly regulated, paper sheets are slightly tinted (pinkish paper);
if the pressure is insufficient, stamps with a wiping defect are obtained;
if the pressure is too strong, grooves are emptied of part of their ink and partially inked or pale printings, figures with a hole in the middle,… can be obtained.
There exist finally cases where one obtains colour bleed in the margins of the sheets.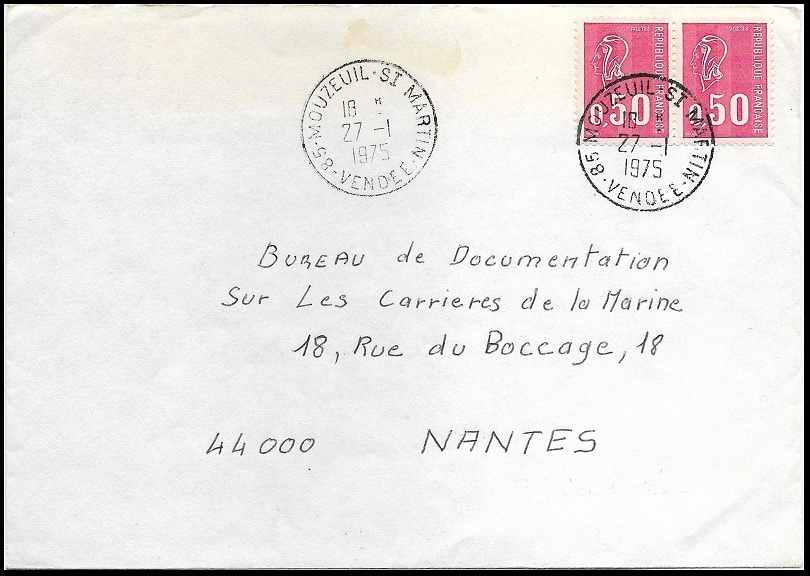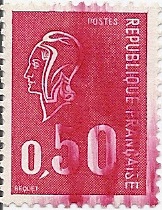 strip of 5 sheet stamps with 2 stamps with a wiping defect
cover with a stamp with a wiping defect
strip of 5 stamps belonging to a booklet of 20 stamps with 2 stamps with a wiping defect
Overprint varieties
In the case of overprints affixed by flat typography (which is the case for the stamp 0,50F Marianne de Béquet overprinted 25F C.F.A.), the following varieties can be found:
a shift of overprint, which can be vertical, the overprint not being positioned at the right place or at a slight angle, caused by a pivoting of the sheet of stamps;


strip of 4 stamps with the overprint 25F CFA at a slight angle and slighty shifted on the right

cover with a stamp whose overprint 25F CFA is vertically offset by 13 mm

cover with a stamp whose overprint 25F CFA is vertically offset by 17 mm
a stamp without overprint attached to an overprinted stamp;


plate block of 10 stamps from the 9th printing with 5 overprinted 25F CFA stamps attached to 5 non overprinted stamps

strip of 10 stamps with 3 non overprinted stamps attached to 7 overprinted 25F CFA stamps
According to a paper by A. VAILLY in the "Bulletin du CAM", the above item would result from the 25th printing: he would have seen a strip of ten stamps identical to the above picture with a ghost date 73 in the right margin due to an insufficient drying.
varieties related to inking: ink of the overprint deeply penetrating the paper (recto-verso overprint) or greasy overprint due to a thicker ink.


block of 4 stamps overprinted 25F CFA with ink traces at the back of the stamps, paper having been penetrated by ink
Marginal markings varieties
The marginal markings may be incorrect (non consistent year, non-working day) or partially inked or non-inked.

plate block of 10 stamps with the plate number (TD6-7) hardly inked and the date non-inked (the two red lines are those of the cylinder AI)
plate block of 12 stamps dated from 10.2.74 which was a Sunday
Substrates varieties
They are associated with everything that concerns the paper or the gum of the stamp.
Gum varieties
Let us remind that two sorts of gums were used for the stamp 0,50F Marianne de Béquet, giving rise to two different aspects: the metropolitan gum (the most used thus also called normal gum) and the tropical gum, also called matt gum, used for the production of coils and for some printings for the DOM-TOM.

a block of 4 stamps with metropolitan gum on the left and with tropical gum on the right
The main variety related to gum is a printed decal on the back of the stamp due to the stacking of sheets whereas ink is not completely dry.

light offset at the back of a corner dated block belonging to the 3rd printing
offset at the back of a pair of stamps
Paper varieties
For paper, it should be noted that various papers can be found, in particular as regards their reaction to UV light. Even if these differences do not constitute really varieties, papers used go from grey papers under UV light to luminous blank papers under UV light :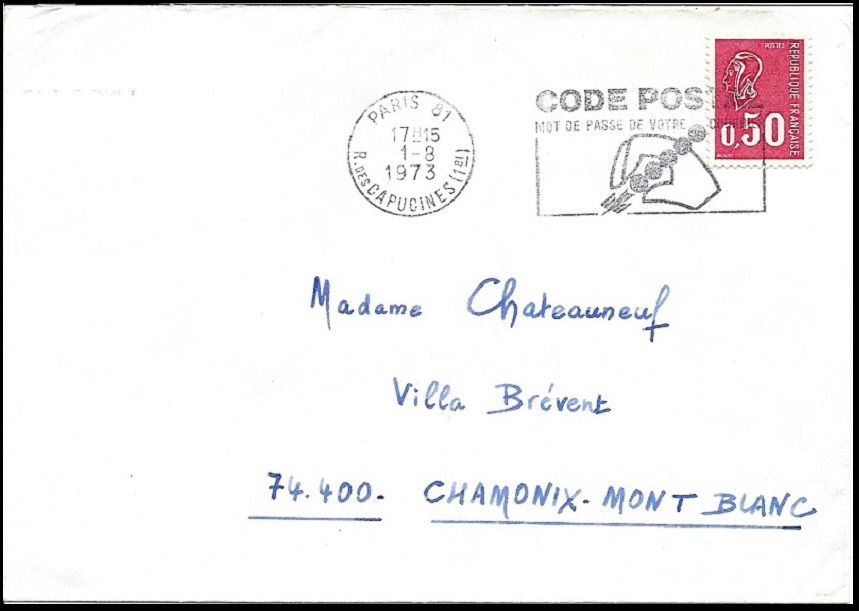 ~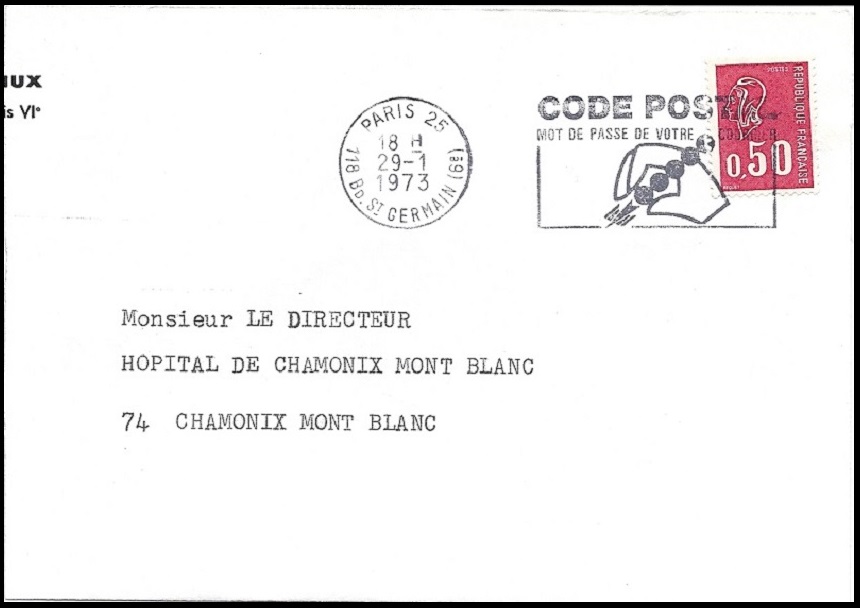 ~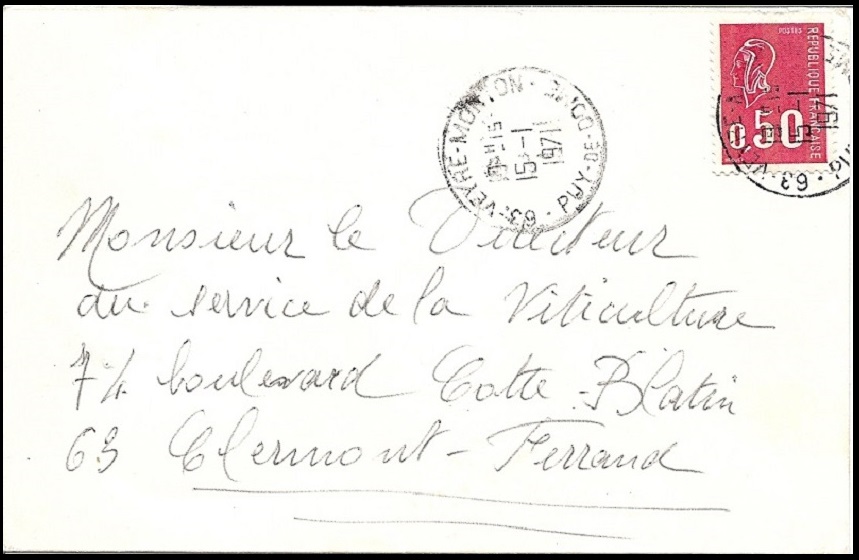 ~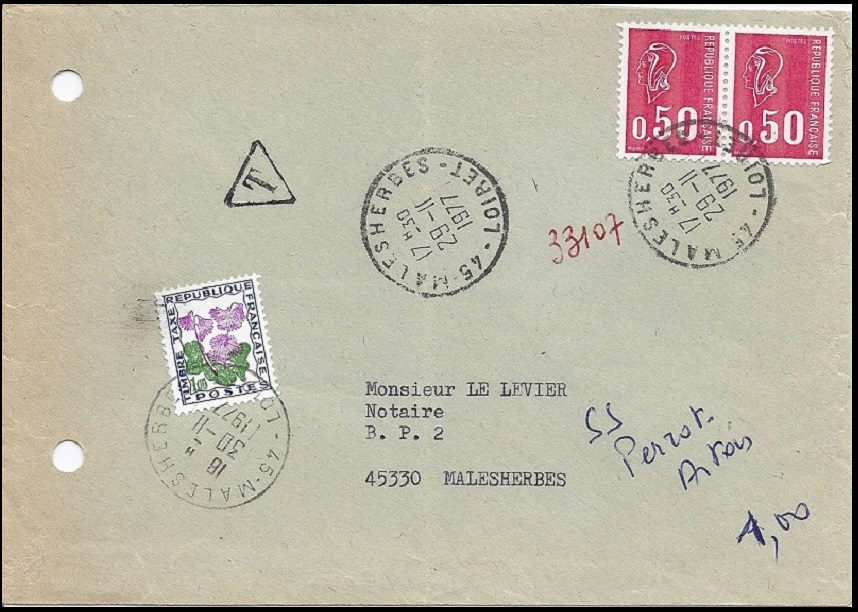 The most known type of variety in this category is the Zig Zag fold. At the time of its path inn the rotary press, the band of paper passes between two cylinders to be printed and is driven tensioned by a brake on the reel. Paper is is pulled flat state thanks to the tension, but if the reel is moved laterally for some reason, a crease appears during some printing time, always in the direction of rotation of the press, and continues during perforation. When the crease is opened, a more or less broad non printed strip appears.
A defect in paper making can also happen, which could be called "dough", making an allowance during the printing of the stamp.

strip of 3 stamps with a crease (?) on the middle stamp
Misperforations
They are related to the achievement of the perforations of the stamps. These varieties can go from a simple off-centre stamp to accidental imperforate (attached or not to imperforate) and going through perforation between stamps.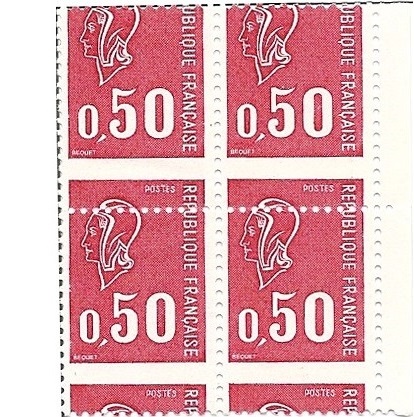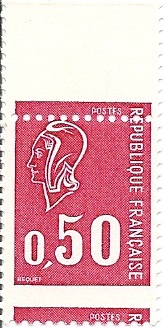 cover with an off-centre stamp without phosphor band
cover with an off-centre stamp with 3 phosphor bands
Phosphor bands varieties
In this section, we will study varieties related to the 3 phosphor bands which were printed on part of the stamps 0,50F Marianne de Béquet.
According to a study of Le Monde des Philatélistes by Dr. Le Tensorer, G. Sohier and J.L. Madron, four groups of phosphor bands varieties can be distinguished:
Group I
In this group, phosphor bands are vertically and/or horizontally shifted: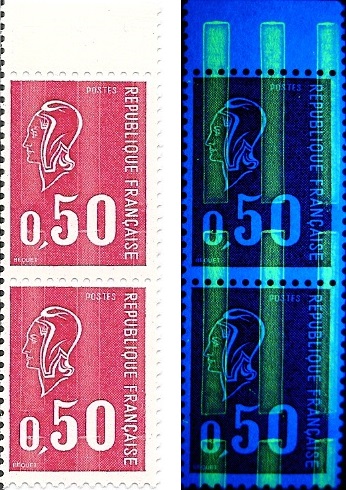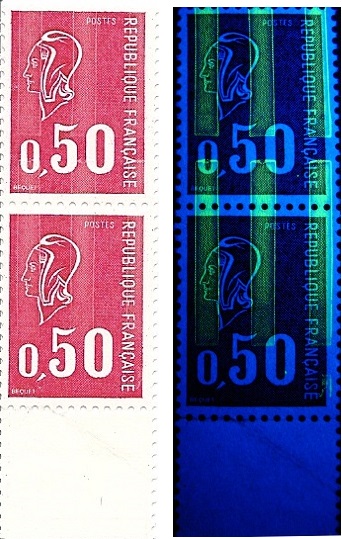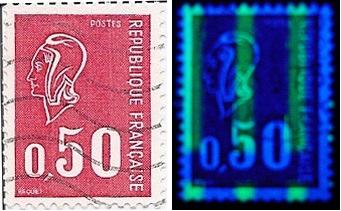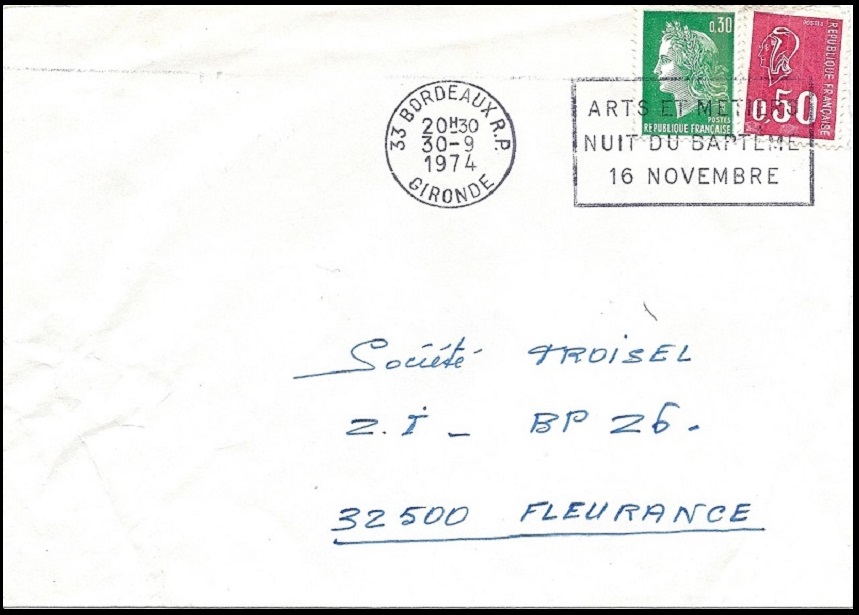 ~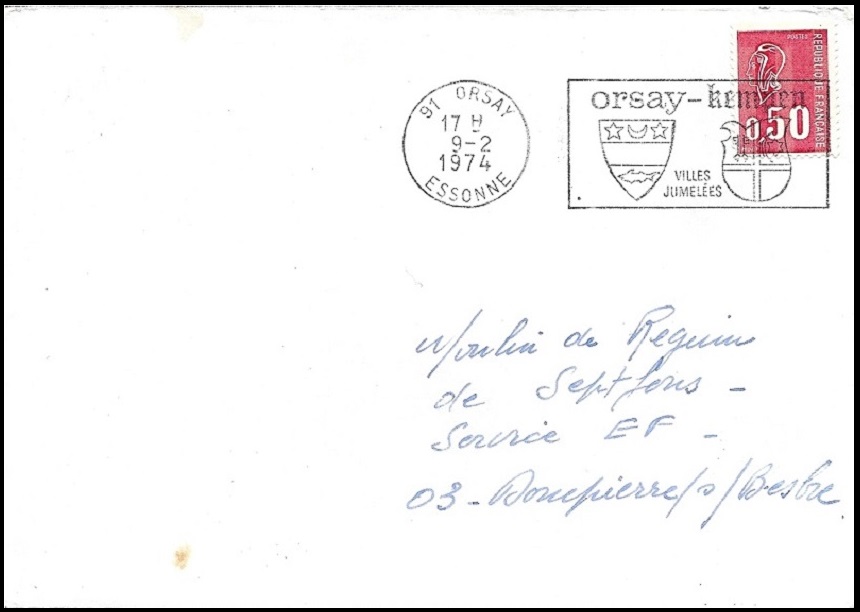 ~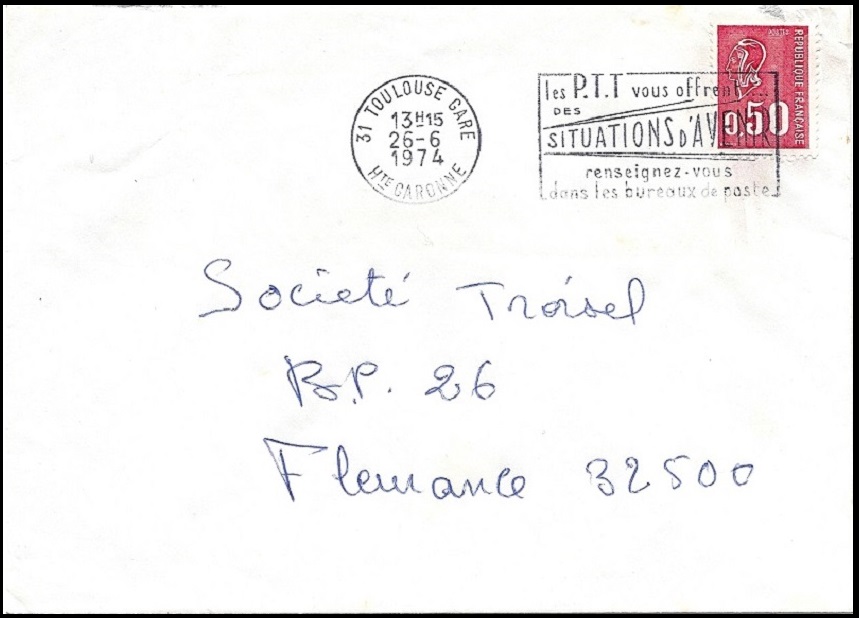 Group II
Here, phosphor bands have "voids": one can have breaks, a drying of the phosphor overprint, phosphorescent traces…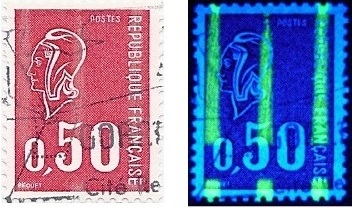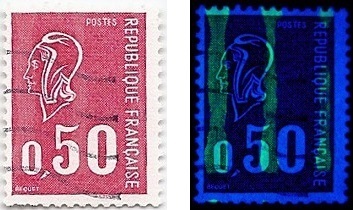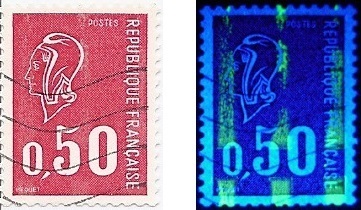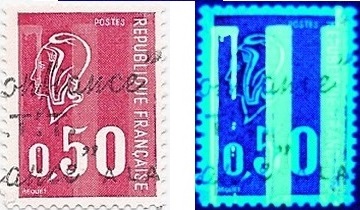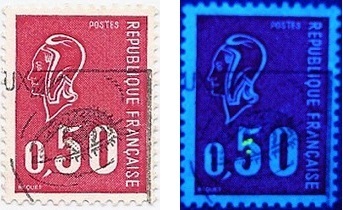 ~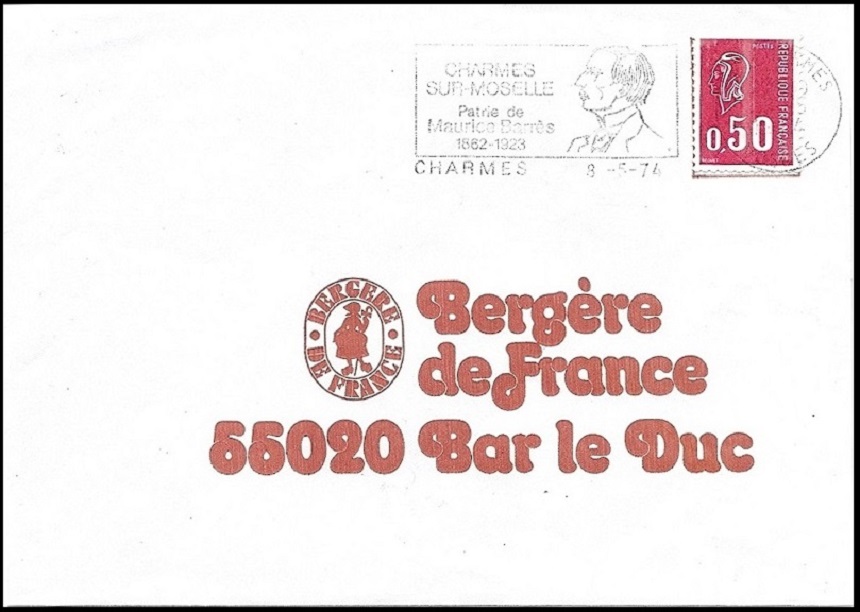 ~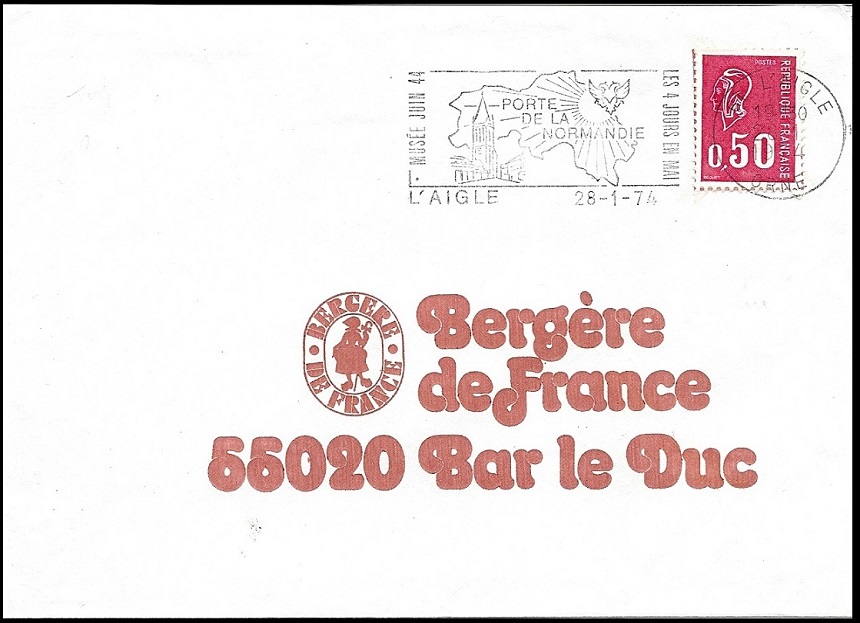 Group III
In this group, we find excess phosphor bands: fuzzy bands, welded bands… This can go up to completely phosphorescent stamps (I don't know any such 0,50F Marianne de Béquet stamp, although I saw such red 0,80F and 1,00F Marianne de Béquet stamps).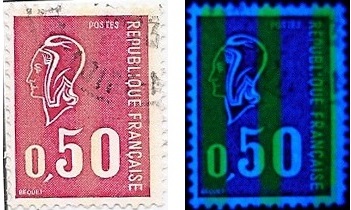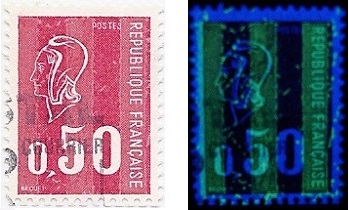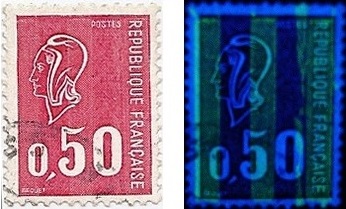 ~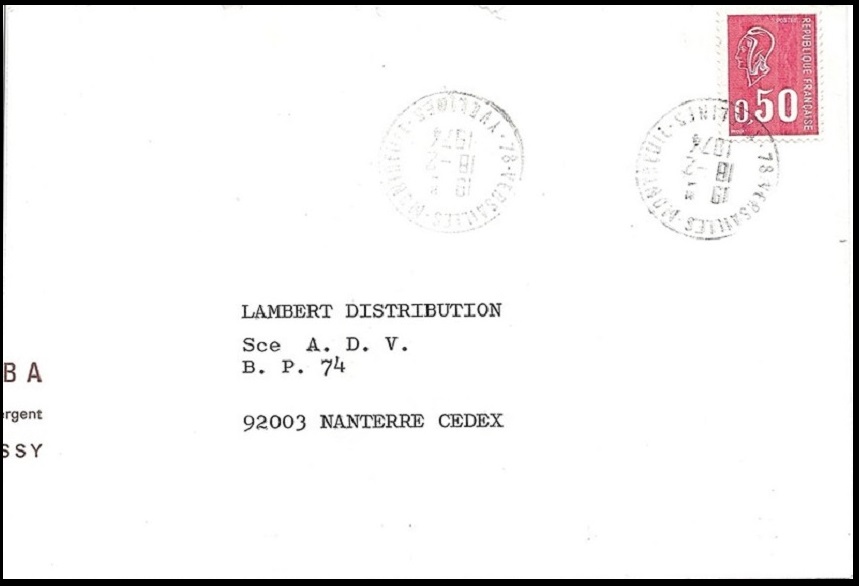 ~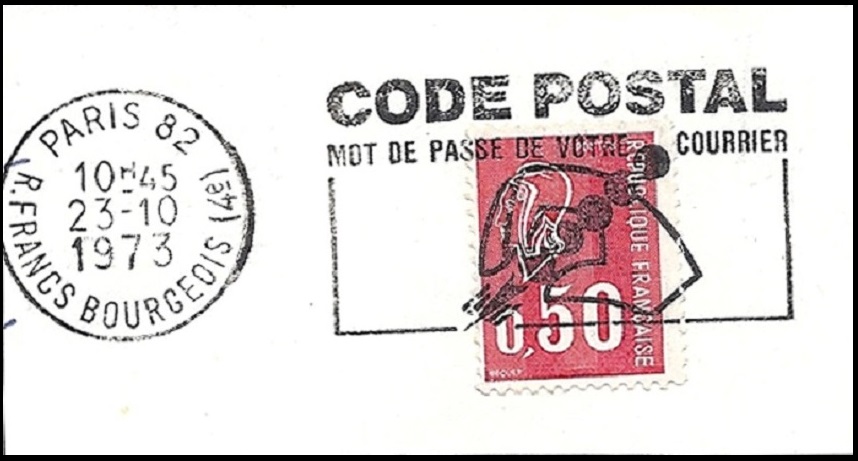 group IV
In this group, stamps have a number of phosphor bands lower than the number of bands of a normal stamp of the same issue (thus 3 for the stamp 0,50F Marianne de Béquet).
There exist booklet stamps with 2 phosphor bands due to an horizontal shift during the printing of the bands.

upper pane of a C9 booklet: the offset large phosphor bands can be seen on the left margin
photo under UV of the above booklet
photo under UV light of a stamp belonging to a booklet of 20 stamps with only 2 type A phosphor bands as a result of an horizontal shift